Navarro County
Navarro County is located in north central Texas, about forty miles south of Dallas, the Trinity River forming its eastern border. Originally populated by the Kickapoo and Comanche Indians, the area was first settled in the mid 1830s, about the same time as Texas gained its independence from Mexico. Navarro County was formed in 1846, mostly from land in Robertson County and was named after José Antonio Navarro, a Tejano leader in the Texas Revolution and signer of the Texas Declaration of Independence. The two original settlements were Porter's Bluff and Dresden and a spot halfway between the two was chosen as the county seat. The new county seat was named Corsicana by José Navarro after the island of Corsica, where his father was born.
The Richland ARP church was organized on 1 September 1876 by Rev. T. J. Bonner and Rev. William Little Patterson with 13 members. Rev. Patterson was the half time minister until October 1880 when he left to go to Lincoln County, AR. While in Arkansas, he married Nannie Boyd, the daughter of A. J. Boyd and Mary Sterling. Rev. Patterson returned to Texas in September 1885 as the minister of Richland and Harmony Churches. Another ARP church was organized in 1895 in Corsicana by Revs. William Little Patterson and W. W. Orr. Most of the original 22 members had relocated from Richland and Harmony. A number of the Boyds from Lincoln County Arkansas moved to Navarro County Texas, including Austin Quay Boyd, Nannie Boyd Patterson, Ira Hershel and Victor Boyd, sons of Robert Alexander and Callie Doyle Boyd. Today there is a large community of Boyds in Navarro County.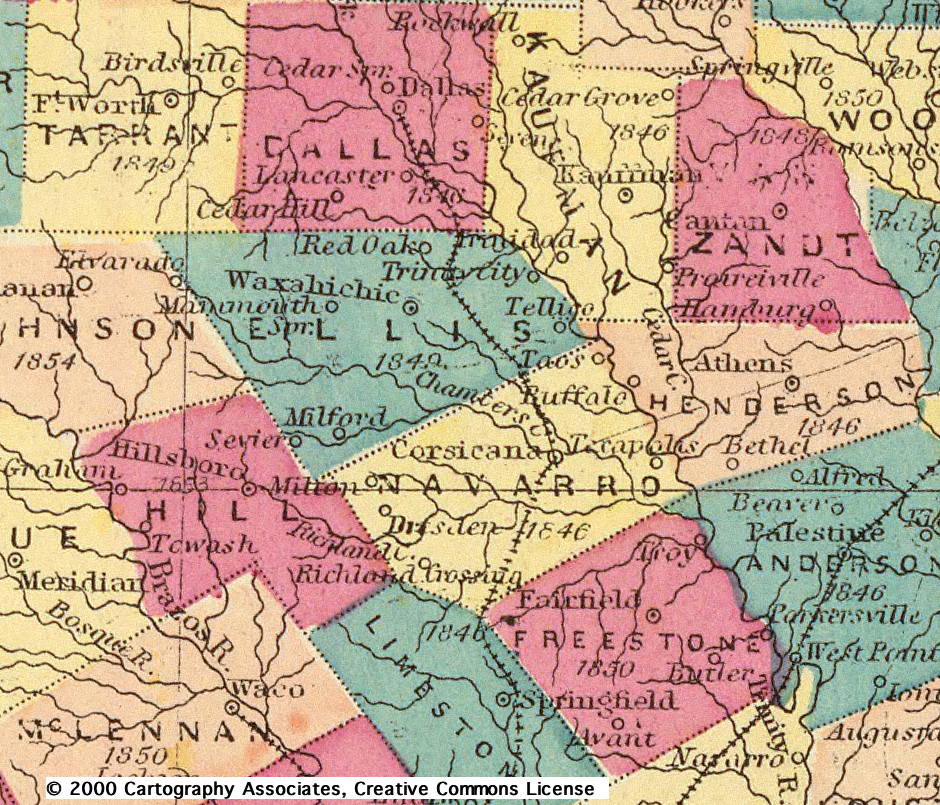 Texas, 1872*
_________________________

* These images are copyright © 2000 by Cartography Associates. Images may be reproduced or transmitted, but not for commercial use. For commercial use or commercial republication, contact mailto:carto@luna-img.com This work is licensed under a Creative Commons License. By downloading any of these images, you agree to the terms of that license.
Scotland | Ireland | South Carolina | Mississippi | Tennessee | Arkansas | Texas