This website is about the Family of William Boyd that lives in Tipton County, Tennessee. It traces the history of the family from William Boyd who immigrated to South Carolina from Ireland before the Revolutionary War through the migration from South Carolina to Mississippi and then to Tennessee, as well as other branches of the family. All of William Boyd's ancestors are included to the extent that I have been able to identify them. These other surnames include Simonton, McLaughlin, McDaniel, McCreight, Carrington, Petty, McCaw, McQuiston, Strong, Reed, Miller, and Morgan.
It should be noted here that there are two entirely distinct Boyd families in Tipton County, which could easily be confused since both have as one of their earliest American ancestors an Alexander Boyd. The other family is descended from Alexander Boyd, the founder of Boydton, VA in the Roanoke River Valley. This Alexander Boyd was born in 1743 in Ayrshire, Scotland and immigrated to Mecklenburg County, Virginia around 1764 where he was a successful merchant. Descendants of this Alexander Boyd began moving to West Tennessee in the 1830s, settling in Haywood, and Fayette Counties. Another descendant, Captain William T. Boyd (CSA) settled in Covington shortly after the Civil War. Our Alexander Boyd was born in County Antrim, Ireland around 1763 and came to America in 1790. He married his first cousin, Martha Boyd who was already in South Carolina. Descendants of this Alexander Boyd moved to Mississippi in 1845 and to Tipton County around 1900.
There is quite a bit of information available on the early history of this particular Boyd family in America, largely because William Boyd immigrated to South Carolina from Northern Ireland with a large group of Presbyterians led by the Rev. William Martin in 1772. Altogether there were 467 families (more than 1200 people) who traveled on 5 separate ships to arrive in Charleston between late October and December of 1772. Jean Stephenson, a descendant of one of these Presbyterian emigrants, has researched it and written a book about it.1 William married Beryl Franklin Black, another Scots-Irish. Religion was a key factor in the development and life of the Scots-Irish immigrants who came to America. It's interesting to note that all of the Boyds from Ireland (and undoubtedly Scotland) to today have been Presbyterians (and many were Presbyterian ministers).
The earliest Boyd ancestors of this particular family that have been documented are two brothers, Robert and William, born in County Antrim in Ulster or Northern Ireland around 1745. William came to America with his family in 1772. Robert, who married Mary Peoples, remained in Ireland, but his son, Alexander, came to America in 1790. Alexander married William's daughter, Martha, his first cousin.

Other families for which there is significant information are the McQuistons and McCreights, both of which have seven generations prior to the current William Boyd documented. These three families, Boyd, McQuiston and McCreight, all came to America as part of the same group of immigrants in 1772. Another major branch of William Boyd's ancestors for which there is significant information is the Simonton family, who came to America earlier, probably originally to Pennsylvania in the early 1700s and migrated through Virginia and North Carolina to South Carolina by the time that the Boyds arrived.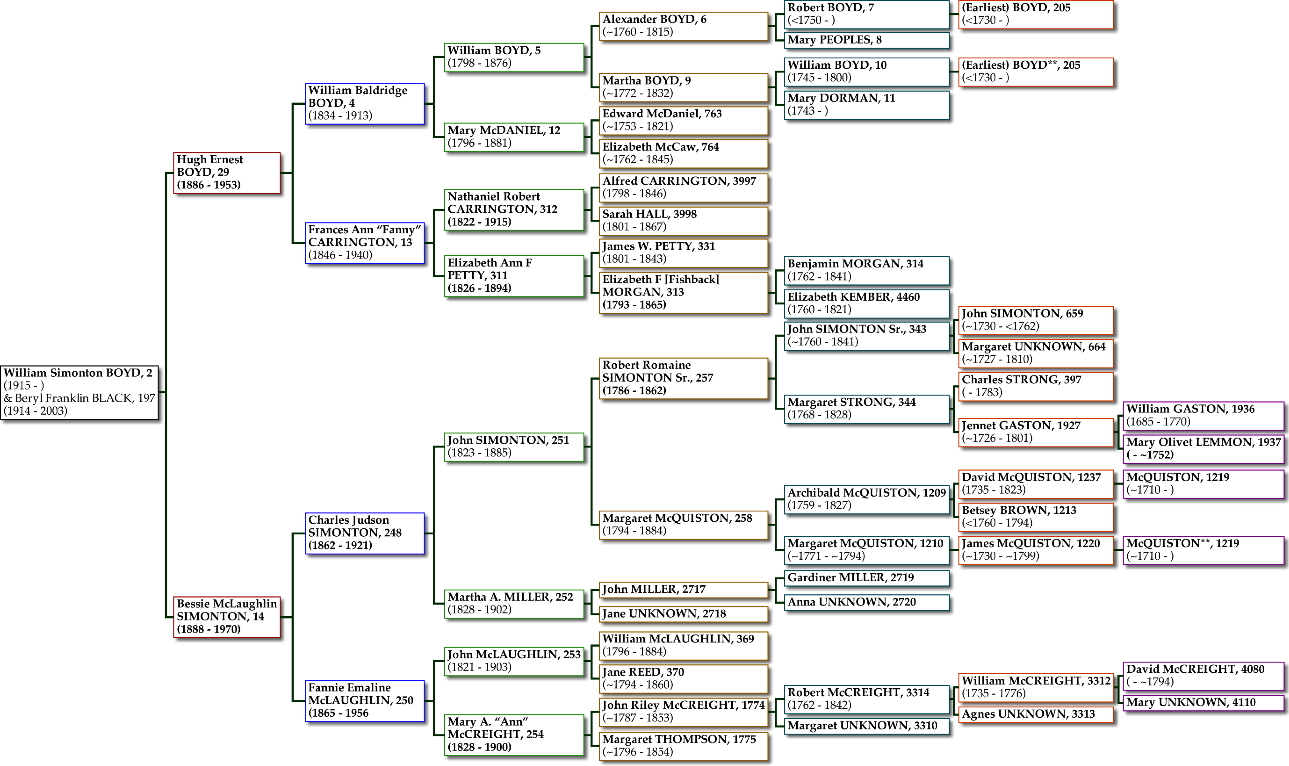 Like many of the Scots-Irish immigrants to early America, the many of the Boyds moved west. Although many of the descendants of William Boyd, who first arrived in Charleston, South Carolina in October 1772, remain in South Carolina today, quite a few moved on to the newly opened territories in Mississippi, Tennessee, Louisiana, Arkansas and Texas as shown briefly in Figure 5 and in more detail in Figure 7. At least one-third of the first generation born in America moved west in the middle of the 19th century, although seven of the nine children that did migrate west came from the same family, Alexander and Martha Boyd. And most of them moved to Arkansas just before or just after the Civil War. Some of the next generation of the families that moved to Arkansas, continued west into Texas, although at least one went to Louisiana.
Most of these Boyds ended up in Arkansas and Texas, although the ancestors of our William Boyd took a different path through Mississippi to Tennessee. Throughout the 19th century, as America expanded westward, new land was being made available to settlers through the acquisition of land from the native Indians, the Louisiana Purchase and the annexation of Texas.The Chickasaw Cession in 1832 made the land of Northern Mississippi available and this is where William Boyd, the eldest son of Alexander and Martha Boyd, took his family in 1845 from South Carolina. Although far from comprehensive, Figure 6 gives an indication of the range of dispersion of the Boyds since 1772.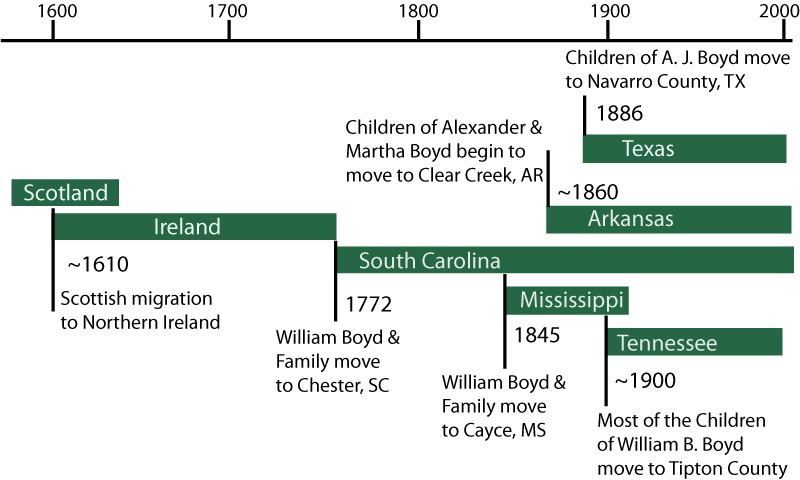 The figure below attemps to detail the migrations of the Boyds from South Carolina during the 19th and early 20th centuries.