Thomas Lonzel Black
Munford
Another 2 miles to the west of Atoka is the town of Munford. In 1852 the Mt. Zion Methodist Episcopal Church South moved to the current site of the Munford Presbyterian Church in downtown Munford. A small, unplanned village grew up around the growing Methodist church on the adjoining lands of Arthur Forbes Wooten, who first settled this point in 1835.
In addition to the Methodist church Mt. Zion was also home to the Tipton Lodge, Free and Accepted Masons founded in 1853, the second oldest Masonic Lodge in Tipton County. The first school was the Tipton Institute, which opened in 1853 under the auspices of the Tipton Lodge No. 226, F. & A.M. Later in 1876, Mt. Zion was the home of the Memphis District High School, (also known as the Dyersburg District High School), that was operated by the Memphis Conference of the Methodist Church. This fine educational institution was later leased and then purchased by the Tipton County Board of Education. This school was the forerunner of the present Munford Elementary, Middle and High Schools.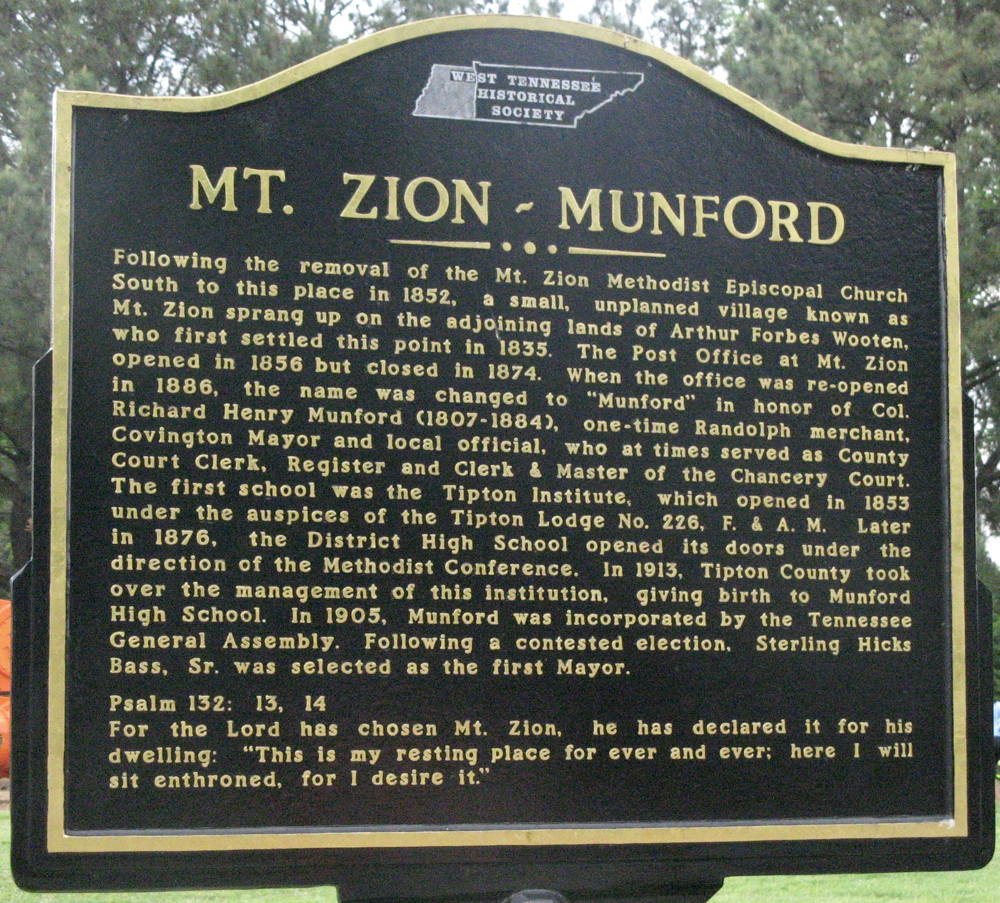 The Post Office at Mt. Zion opened in 1856 but closed in 1874. When Mt. Zion reapplied to the United States Post Office Department in 1886 to have their old Post Office reopened, the Post Office Department approved the application with one exception. The town would have to come up with another name for their Post Office. The reason behind the government agency's request was simple. They claimed that if the name of Mt. Zion were reinstated, it would cause confusion among postal employees when sorting the mail between Mt. Zion, Tennessee and Mt. Zion, Pennsylvania. It may be noted here that at the time the common abbreviation for Tennessee was "Tenn." and the common abbreviation for Pennsylvania was "Penn." In print and especially in script, the names of these two towns would look very similar to postal employees attempting to sort the mail. In the days before zip codes existed, mail could have easily been routed to the wrong place because of the similarities in the town names, causing serious delays in delivery. So the name was changed to "Munford" in honor of Col. Richard Henry Munford (1807-1884), one-time Randolph merchant, who had served over the years as the Tipton County Clerk, County Register of Deeds and Clerk and Master of the Chancery Court, as well as the Mayor of Covington. The newly appointed Postmaster was G. B. Sale.
Although the Post Office after 1886 was known as Munford, parts of the town would continue to be known as Mt. Zion until 1905 when Munford was incorporated by an Act of the Tennessee General Assembly. Sterling Hicks Bass, Sr. was elected as the first mayor.
Thomas Lonzel Black married Josephine Rosanna Land (1878 - 1957) about 1896 and were living in Tipton County in 1900 where Tom was a farmer. (Josie Land's parents were James M (Jim) Land and Mary Caroline Hutchinson. Jim was Mary Caroline's second husband. Her first husband was Jesse Richard Trotter with whom she had 3 children. Jim and Mary Caroline had two children: Josie and Lavenia.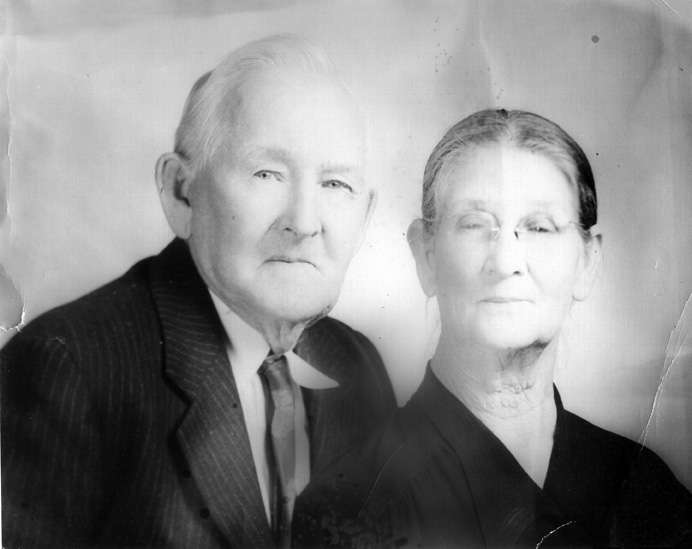 Tom and Josie Black
Tom and Josie Black had 9 children:
Myrtle Irene (Sister) (1897-1983)
James Riley (Jack) (1899-1983)
Mary Lois (1902-1998)
Vivian Lucille (1905-2000)
Lavenia R (Venie) (1908-1995)
Gunetta Carolyn (1910-2005)
Beryl Franklin (1914-2003)
Virginia (1917-1997)
Melbagene (Coots) (1920-2009)
Jack, Lois, Lucille, Lavenia, Gunetta, Beryl, Virginia and Melba Jean Black
James (Jim) Black was born about 1875 (was 5 years old in the 1880 census and died sometime after 1880 and before 1900. Where he is buried is unknown.
Maggie Virginia Black was born 23 February 1877 and married Luther Franklin Glass (1875 - 1949) from Atoka 21 October 1896. They lived in Tipton County, but moved to Missouri sometime between 1920 and 1930. Luther was a farmer. They had 13 children, one of which died as an infant. Interestingly, according to the 1920 census none of the male children could read or write, although both parents and all of the female children could read. Luther and Maggie died in Charleston, MO. Maggie Black and Luther Glass had 13 children:
Leon Glass (1897-?)
Lora Glass (1898-?)
infant Glass (1899-1899)
Ira Leslie Glass (1900-1974)
Samuel P. Glass (1902-1986)
Lillian L. Glass (1904-?)
Leona Glass (1905-1978)
Leonard David "Bill" Glass (1907-1980)
Landis W. Glass (1909-1994)
Lana N. Glass (1912-?)
Woodrow Fleming Glass (1914-2005)
Patty Mae Glass (1916-2004)
Laverne C. Glass (1918-2004)
Carrie Donie Black was born about September 1879. She married Perry Coleman Wicker in 1896 and they lived in Tipton County. Sometime before 1930 they moved to Richland, Scott County, MO. They had 7 children:
Anna May Wicker (abt Dec 1899-?)
John L. Wicker (abt 1904-?)
Della L. Wicker (abt 1906-?)
Annie Norena (abt 1908-?)
James P. (abt 1911-?)
Laura A. (abt 1913-?)
Elmer (abt 1918-?)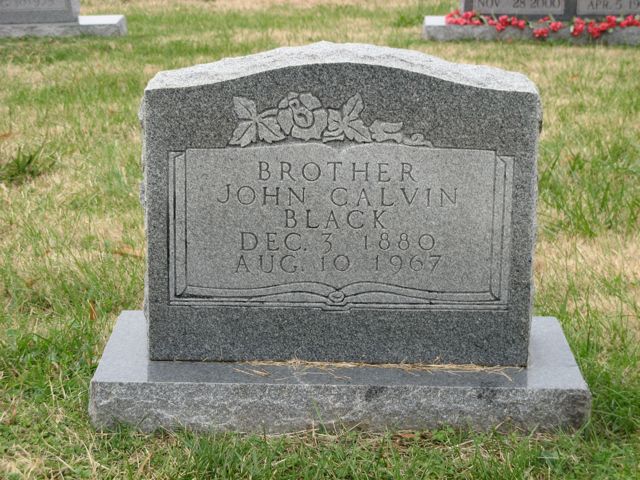 John Calvin Black was born 3 December 1880. In 1910 he was living at home with his father, mother and two sisters. In 1920 both he and his father were living with his brother William. He never married. John Calvin died in 1967 and is buried next to his sister Cora in the Crigger Cemetery in Munford.
William Demit Black was born 13 July 1882. He married Leticia Hays from Jefferson, Izard County, Arkansas. She was born about April 1888. They had 8 children and lived in Tipton County. Both William and Sara Leticia died in 1960.
Jim Tom (abt 1905-1973)
John Calvin "John Alex" (1906-1949)
Annie Mae (abt 199-1955)
William Demit Jr. (abt 1911-?)
Thurman L. (1912-1977)
Elsie L. (1915-1991)
Christine (abt April 1917-?)
Ben
Virle Alvena (Apr 1919-2004)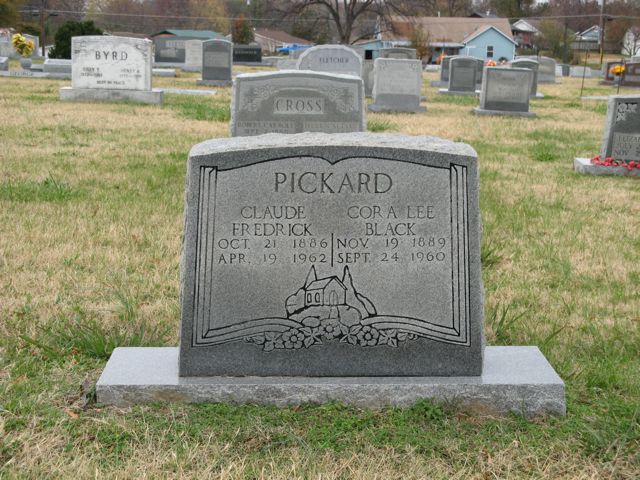 Cora Lee Black was born 19 November 1889. Cora married Claude Fredrick Pickard (1886 - 1962), who was also from Tipton County. Cora died in 1960 and Claude died in 1962. They are both buried in the Helen Crigger Cemetery in Munford. Cora Lee Black and Claude Fredrick Pickard had 7 children:
Etta Bea [Laura?] Pickard (abt 1913-?)
Geneva Pickard (abt 1915-?)
Dorothy Pickard (abt 1919-?)
John Albert Pickard (1921-2002)
Wilford Lee "Sparky" Pickard (1924-2000)
Clayton B."C.B." Pickard (1926-2002)
Sidney M. Pickard (abt 1927-?)
Annie Black was born in June 1892 and died 5 February 1972 in Memphis, Shelby County, TN. She was first married to Robert Ferguson on 6 June 1910 in Lauderdale County with who she had two children. Robert died 12 December 1915 in Lauderdale County, TN and is buried in Marys Chapel Cemetery in Ripley, TN. Annie next married William "Will" Whitehorn on 27 October 1917.
Annie and Robert Ferguson had two children:
Herman Ferguson (abt 1913-?)
Cordia Belle Ferguson (abt 1915-1972)
Beulah Bell Black was born 30 January 1894 and married Jesse Bryan Thomas (1897 - 1979) on 4 April 1918. Jesse was born 11 August 1897 and was from Arkansas. In 1920 they were living in Tipton county and Jesse's 17 year old brother, Auston, was living with them. Jesse served in the Army in France in 1918. Both Jesse and Beulah died in Memphis in 1979 and 1985 respectively.
Jesse Thomas and Beulah Bell Black had 8 Children:
Willie Mae Thomas (1920-2005)
Jessie Fay Thomas (1920-1920)
Allen R. Thomas (abt 1922-?)
Helen D. Thomas (abt 1925-?)
Hazel R. Thomas (abt 1926-?)
Jessie Bryan Thomas, Jr. 1928-2002)
Milton D. Thomas (abt 1930-?) (twin)
Mildred J. Thomas (abt1930-?) (twin)
Flatwoods
Flatwoods is an unincorporated community halfway between Hopewell and Gilt Edge, about 7 miles north of Munford. Thomas Lonzel Black lived here with his family in the early 1900's before moving to Munford.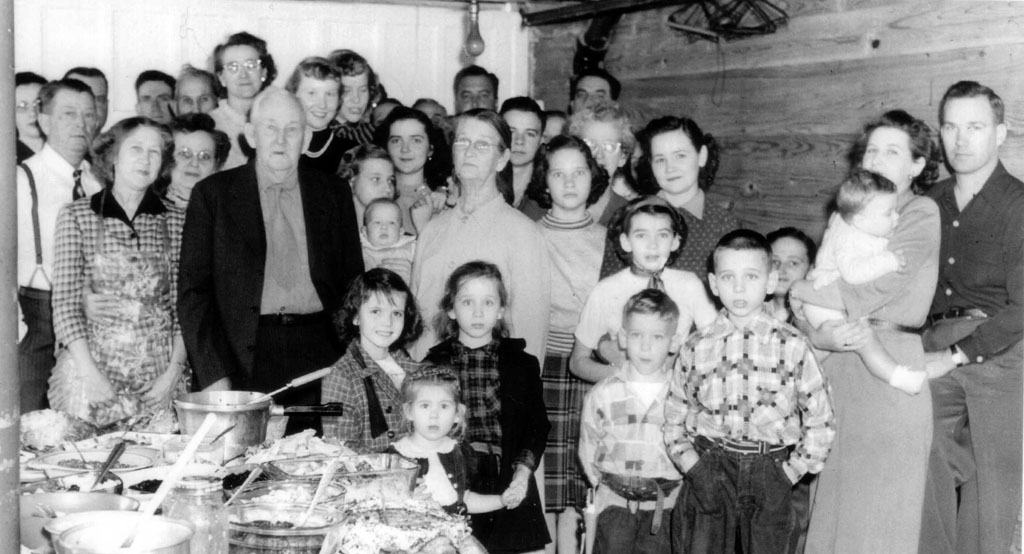 Tom and Josie Black and family, c. 1953 (
names
)
The Children of Tom and Josie Black
Myrtle Irene (Sister) Black (1897 - 1983) was married twice. She first married Turner Baskin (1896 - 1920). Turner Baskin was a farmer and they lived in Tipton County, TN. Sister and Turner Baskin had one child:
After Turner's death (unknown), Sister married Turner's brother-in-law, John Dalton (JD) McMillin (1882 - 1953). John had previously been married to Turner Baskin's sister, Donie, who also died and is buried in Indian Creek Cemetery. John Dalton and his first wife had two children:
Alma Lorene (28 Aug 1906 - 8 Oct 1998)
Roy I. (abt 1908 - bef 1998)
Roberta (abt 1914 - 11 Mar 2001)
JD McMillin was also a farmer in the Gilt Edge area of Tipton County, TN. JD and Sister McMillin had 5 children:
Albert S. (Little Boy) (10 Dec 1922- 25 Jan 1983) (twin)
Alfred Wayne (Beatsie) (10 Dec 1922 - 21 Mar 2005) (twin)
J. D. (abt 1925 - 28 Jan 2003)
Clara Sue (abt 1929 - )
Pauline "Polly" (29 Oct 1930 - 30 Aug 2000) (twin)
Charline (29 Oct 1930 - 29 Nov 1931) (twin)
John Dalton McMillin and Myrtle Irene Black are both buried in the Indian Creek Cemetery near Brighton, Tipton County, TN.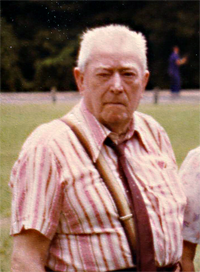 Jack Black
James Riley (Jack) Black (1899 - 1983). Jack's World War I draft registration card identifies his address on 12 September 1918 as RFD#1, Burlison, Tipton, TN and his nearest relative as his father. He was of medium height and build with blue eyes and light hair. Jack married Hattie Glidewell (1895 - 1987) on 18 September 1919 and they lived in Burlison, TN, where Jack was a farmer. Sometime before 1930, Jack and Hattie moved to Memphis where they were living at 724 Bethel Avenue (near Manassas) in 1930, where Jack was an Insurance Agent and Hattie worked in a paint factory. Around 1965 Jack and Hattie moved into the house in Munford where Tom and Josie Black had lived and they lived there until they died. Jack and Hattie had no children. They are both buried in the Bethel Cemetery in Tipton County, TN.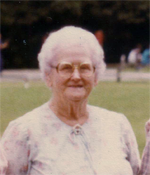 Mary Lois Black
Mary Lois (Lois) Black
(1902 - 1998).
Lois, the third child of Tom and Josie Black, married Nashville Leonard Glidewell on 18 June 1922 when she was 20 years old. Leonard, as he was called, was the brother of Hattie, Jack's wife. In 1917, Leonard was a clerk for J. R. McMahon Sales in Randolph, TN. He served in World War I as a private in the army. Leonard and Lois had five children:
Wylodene (12 May 1923 – )
Margaret Louise (3 March 1925 – 28 May 2009)
Nashville Leonard, Jr. (13 February 1928 – 14 May 1999)
Thomas Glenn (25 October 1933 – 14 November 1981)
Mary Jo (abt 1939 – )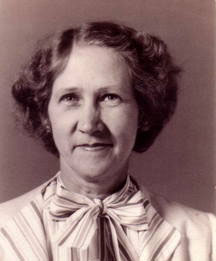 Lucile Vivian Black
Lucile Vivian Black (1905 - 2000).
Lucille married Ralph Simonton Moose, the son of A. Manuel Moose and Elnora Young Simonton, Ralph was born in Clopton, Tipton County, TN on 11 May 1907. Both Ralph and Lucille were school teachers in the Munford School. Lucille taught elementary school for 46 years and Ralph taught math and science in high school for 27 years.

After retiring, Ralph and Lucille traveled extensively, visiting the Holy Land, Rome, Athens, England, Scotland, Wales and Hawaii as well as bus tours of the United States and Canada, even a Caribbean Cruise. In 1990, they sold their house in Munford, where they had lived for over 42 years and moved to the Kirby Pines Retirement Community in Memphis.

Ralph died on 20 February 2000 at the age of 92. In the fall of that same year, Lucille fell and broke her hip. She died of complications on 1 November 2000. They are both buried in the Bethel Cumberland Presbyterian Church Cemetery near Munford.
Lavenia Rebecca Black
Lavenia Rebecca "Venie" Black
(1908 - 1995).
Venie married William Edgar Glover on 24 July 1927. Edgar was born 21 December 1904, the son of Odis W. Glover and Willie Audrey West. He was a salesman. Venie was an elementary school teacher in Munford.
Edgar died in 1975. Venie, who had never learned to drive a car, relied on Edgar to drive her where ever she had to go. After Edgar's death, she learned to drive and got her first driver's license when she was nearly 70. They had four children:
Dorothy Jean (28 April 1928 – )
William Edgar "Bill" Jr. (13 May 1930 – 12 August 1994)
Rebecca Anne "Becky" (abt 1932 –)
Patricia "Pat" (4 August 1932 – 30 May 2013)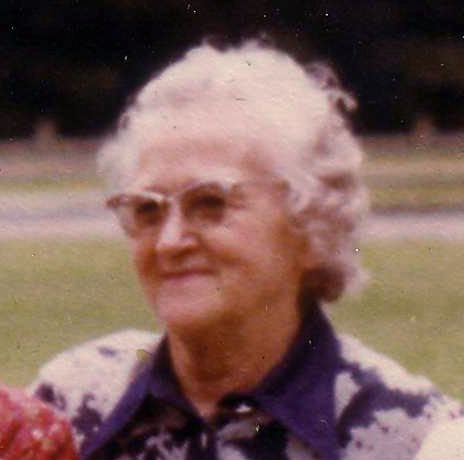 Gunetta Carolyn Black
Gunetta Carolyn Black
(1910 - 2005).
Gunetta was born in Flatwoods, attend West Tennessee State Teachers College (now University of Memphis) and taught school at Randolph or Gild Edge until she married. She returned to teaching after the children entered school. Gunetta married Andrew Thomas "AT" Smith in 1933 in the home of her parents in Munford. AT, the son of Arthur Theophilus Smith and Della Electra Huffman was born 15 January 1910 in Atoka and always referred to himself at A AT Smith Jr. even though he and his father did not have the same name. They had two children:
Carolyn Theodra (10 March 1934 – )
Wayne Lonzel (10 October 1937 – )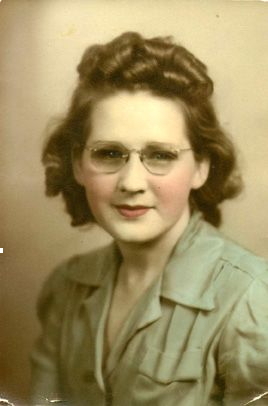 Beryl Franklin Black
Beryl Franklin Black
(1914 - 2003).
Beryl was born in Flatwoods. the family moved to Munford when she was 10 years old where she graduated from Munford Elementary School in 1928 and Munford High School in 1932. She attended the State Teachers College in Memphis (University of Memphis) long enough to get a teachers certificate and taught in the Tipton County School System. At the time married women were not generally allowed to teach school, but Gunetta got married about the time that Beryl got her teaching certificate and Beryl took over Gunetta's position at the Randolph Elementary School.
Beryl married William Simonton Boyd, of Atoka on 29 November 1940. They had four children:
William Simonton, Jr. (23 February 1943 – )
Bette Anne (9 November 1945 – )
Thomas Hugh (18 June 1947 - )
Margaret Lynn "Peggy" (1 April 1956 - )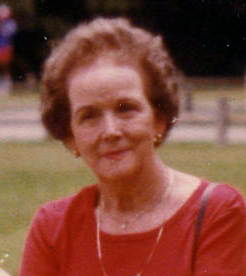 Virginia Black
Virginia Black
(1917 - 1997).
Virginia graduated from Munford High School and attended Memphis State Teachers College. in 1936 at the Tipton County Fair, she was selected from a field of 25 contestants as Miss Tipton County. She married Richard Aubrey Baxter in 1937 at the Munford Presbyterian Church. Both Aubrey and Virginia are buried in the Covington Memorial Gardens Cemetery in Covington.
Virginia and Aubrey had three daughters:
Virginia Kimbrough (abt 1939 – )
Lillian Camille (abt 1940 – )
Mary Jane "Janie" (8 November 1945 - )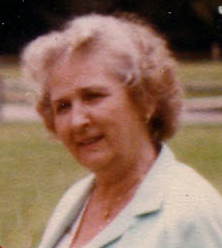 Melbagene Black
Melbagene "Coots" Black
(1920 - 2009).
Melbagene was called "Coots" by everyone but her husband, Wilbur Cash. They were married in 1945 while Wilbur was still in the US Army Air Corps. They lived for a short time in Newburgh, New York where Wilbur was stationed at Stewart Field. They then lived in Nashville, while Wilbur was attending Vanderbilt Law School. He had a law practice in Covington and was later a Judge.
Melbagene and Wilbur had three children:
Jean Louise (1949 – )
Wilbur Franklin "Bill" Jr. (abt 1952 – )
Anne Frances (abt 1958 - )