The ancestors of Beryl Franklin Black are shown in the chart below. I have been able to trace the Black family back to Joseph Sedlee Black, born in North Carolina about 1812. According to research done by Wayne Smith, Joseph Sedlee Black's grandfather, James Black was born in County Londonderry, Ireland in 1728 and came to America about 1754 where he initially settled in Pennsylvania. James married Elizabeth Russel in Pennsylvania in 1756 and they had several children in Pennsylvania before moving to Mecklinburg county, NC around 1867. (The area became Cabarrus county in 1792.) Their son Robert, born in 1767 in either Pennsylvania or North Carolina, married Matilda Alexander in 1796 in North Carolina. Robert and Matilda has eleven children, including Joseph Sedlee Black.
Ancesters of Beryl Franklin Black (Click on image to enlarge)
Joseph Sedlee "Lee" Black
Joseph Sedlee Black was born in Cabarrus County, NC about 1812. In 1860 he was living in Mt. Pleasant, Cabarrus county NC which is about 25 miles northeast of Charlotte, NC. On 1 August 1836 he married Mary C. McEachran in Cabarrus County. Mary was also born in Cabarrus County about 1811 and died before 1863. Joseph and Mary had seven children:
Robert S. (June 1837 - )
Louisa B. (abt 1840 - )
Harvey (abt 1841 - )
James Augusta (10 April 1844 – 30 April 1920)
John Calvin (3 September 1846 – 3 January 1925)
Martha (abt 1848 – unk) David M. (1850 - 1925)
Joseph Sedlee Black second married Elizabeth Turner on 6 March 1863 in Cabarrus County, NC. Elizabeth, the daughter of Seneca Turner and Elizabeth Bost, was born on 6 March 1830 in Cabarrus County and died on 6 February 1918 in Township 10, Cabarrus County, NC. Joseph and Elizabeth had seven children.
Robert S. Black
Robert, the eldest son of Lee and Mary, was a private in Company K of the 28th NC Infantry during the Civil War. He enlisted as a volunteer on 12 March 1862 in Cabarrus County, NC. After the war he moved to Fayette County, TN where he married Elizabeth A. Mitchell in the early 1870s. Elizabeth was born May 1842 in Mississippi. Robert was in Tennessee at least by 1872 as he was a signatory to John Calvin Black's marriage bond in 1872. Robert and Elizabeth had four children.
George Oliver (February 1876 – unk)
Ocola (October 1878 – unk)
William Lee (abt 1871 – unk)
Mary Ollie (May 1882 - unk
James A. Black
James, the fourth child and second son of Lee and Mary, was born on 10 April 1844 in Cabarrus County and died on 30 April 1920 in Charlotte, Mecklenburg County, NC. He married Sarah Jane "Sallie" Carriker. Sallie, the daughter of Levi Carriker and Elizabeth Turner, was born on 10 April 1852 and died on 1 January 1925. Both James and Sallie are buried in the Elmwood Cemetery in Charlotte. James and Sallie had 14 children.
John Calvin Black
John Calvin, the third son of Lee and Mary, was born in Cabarrus County on 3 September 1846 and died on 3 January 1925 in Burlison, Tipton County, TN. He is buried in the Mount Lebanon Cemetery near Covington.
2nd Junior Reserves Regiment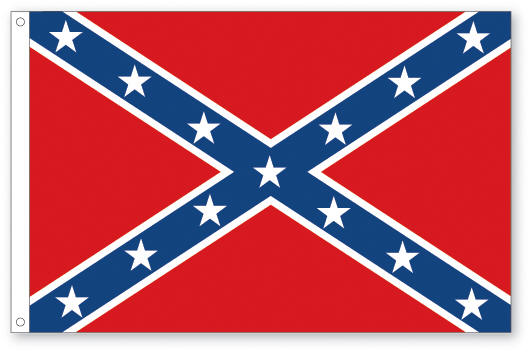 Near the end of the Civil War, the Confederacy experienced a manpower shortage. There was already a military conscription that included all able bodied men between 18 and 45 (State officers, physicians, ministers of the gospel were exempt). On 17 February 1864 the Confederate Congress passed a law which created Junior and Senior Reserves consisting of men between 17 and 18 in the former and men between 45 and 50 in the later. The Junior Reserves were organized in April and May of 1864. Many of the soldiers in the Junior Reserve were transferred to other units when they reached 18 years of age.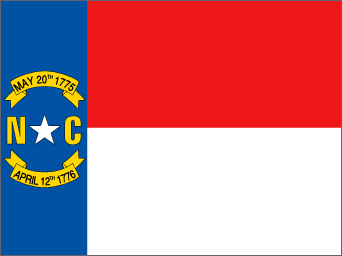 The 2nd Junior Reserves Regiment of North Carolina was orginally organized in December 1864 by consolidating the previously formed 2nd and 5th Junior Reserves Battalions. It consisted entirely of "men" between the ages of 15 and 18 from the counties of Wayne, Duplin, Rowan, Lincoln, Gaston, Cleveland, Rutherford, Cabarrus, Union, Greene, Lenior, Beaufort, Hude, and Tyrrell.

Hometown counties of the
2nd Jurior Reserves Regiment
37th North Carolina Infantry
37th Infantry Regiment, organized by Colonel C.C. Lee, was assembled at High Point, North Carolina, in November, 1861. The men were raised in the counties of Buncombe, Watauga, Mecklenburg, Wake, Ashe, Alexander, and Gaston. The unit fought at New Bern , then moved to Virginia in the spring of 1862. It was assigned to General Branch's and Lane's Brigade, Army of Northern Virginia. The 37th saw action at Hanover Court House and particpated in many campaigns of the army from the Seven Days' Battles to Cold Harbor . It continued the fight in the Petersburg trenches and around Appomattox. This regiment reported 125 casualties during the Seven Days' Battles, 15 at Cedar Mountain , 81 at Second Manassas , 93 at Fredericksburg , and 235 at Chancellorsville . Of the 379 engaged at Gettysburg , more than thirty percent were disabled. It surrendered 10 officers and 98 men.
John was a private in Company C of the 37th North Carolina Infantry. He originally enlisted in (or was drafted into) Company E, 2nd Junior Reserves Regiment, North Carolina Infantry on 21 May 1864 when he was 17 years old. He was transferred to Company C, 37th Regiment North Carolina Infantry on 4 October 1864 (Some records indicate 11 October 1864). This is consistent with him turning 18 years old in September 1864. When John Black transferred in, the 37th NC regiment had already been engaged in the defense of Petersburg, VA since June of 1864. Petersburg was on the main supply route to Richmond and was therefore key to the defense of Richmond. After a ten-month siege (June 1864 – March 1865) by the Union forces under General Grant, which also included repeated attacks on Richmond, only 25 miles away, the Union forces led by General Philip Sheridan overcame the Confederate General George Pickett at Five Forks on 1 April 1865. This action opened up access to the last rail line into Petersburg. On April 2 Grant undertook an all-out assault and only heroic efforts by Lee's troops kept the Union forces out of Petersburg.
On the night of 2 April, Lee evacuated Petersburg. On 3 April, Private John C. Black was captured at Petersburg. Four days later, on 7 April 1865 he arrived at Hart's Island, a Prisoner of War Camp in New York City at the western end of Long Island Sound. On 9 April, Lee surrendered to Grant at Appomattox Court House. On 19 June 1865, after taking the oath of allegiance, John Calvin Black was released at Hart's Island. In his release notice he was described as being 5 ft. 4 in. tall, of fair complexion with light hair and gray eyes and that he signed the oath with a mark.
In his application for a pension in 1905, John Black reported that while serving in the trenches at Petersburg during the winter of 1864-1865 he contracted a hernia from over-exertion and was bandaged by the regimental surgeon. He also reported that he had brain fever while at Hart's Island which had a permanent affect on his head as well as his hearing.
How he returned home after his release from Hart's Island and what he did for the next several years is unknown. He moved to Fayette County Tennessee around 1869 or 1870, probably along with his brother, Robert. On 8 April 1872 he and his brother, Robert S. Black, took out a marriage bond ( ) for his marriage to Laura Cross and was issued a marriage license ( ). John and Laura Cross were married on 10 April 1872 by James L. Moore, Justice of the Peace.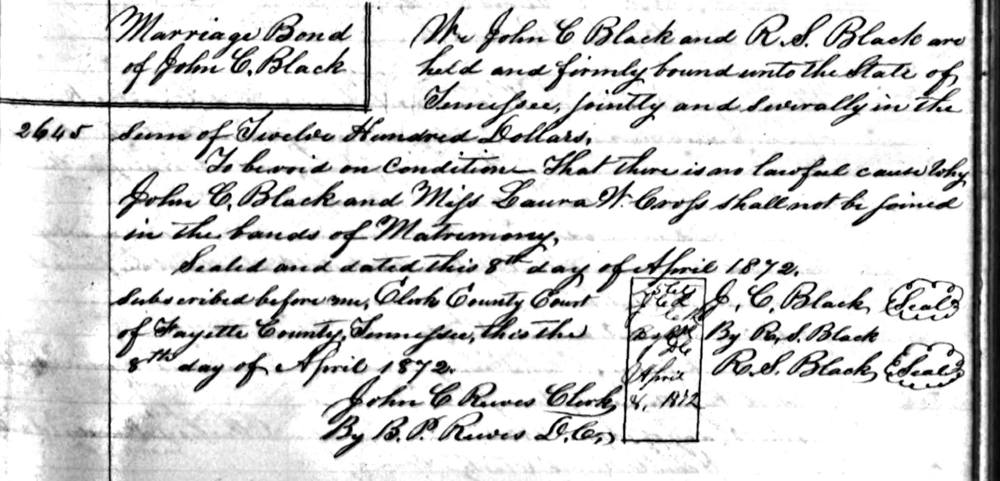 Marriage Bond for John C. Black and Laura Cross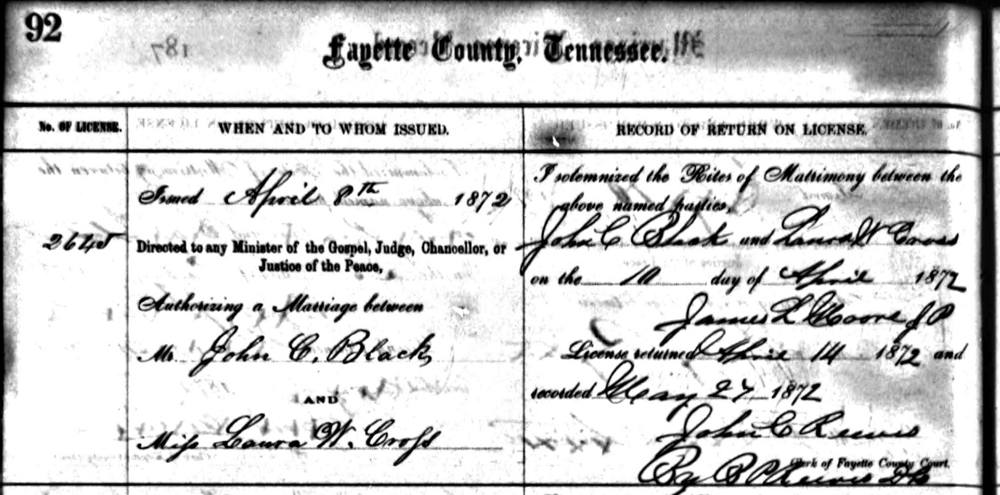 Marriage License for John Calvin Black and Laura Cross
Laura W. Cross, the daughter of William and Martha A. Cross, was born in May 1853 in Tennessee. At first John and Laura lived next door to Laura's parents, where they were still living in 1880. By 1900, John and Laura had moved to Tipton County and in 1905 were living in Gilt Edge (Burlison Post Office RFD #1).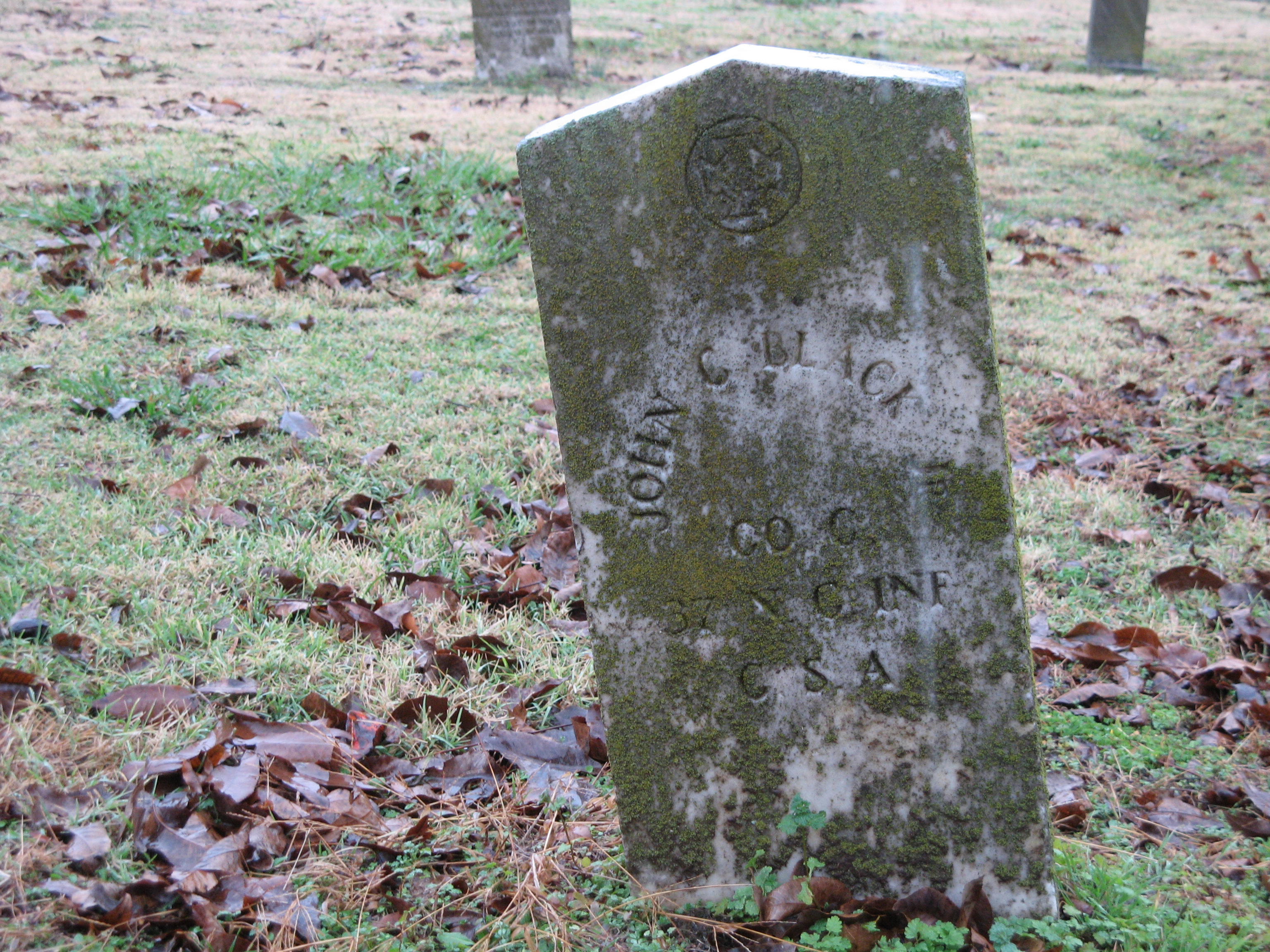 Tombstone of John Black
In November of 1905, John applied for a soldier's pension, based on his service in the Confederate Army during the Civil War. There was some confusion initially on the unit that he served in and the initial application was denied. After additional research, his correct unit was identified and the pension was granted in November 1907. It was often the case that Confederate veterans could not identify their unit as many military units were merged over the course of the war and the unit designations changed. This was probably due to the large number of casualties. In John's case, however, he was only in the army for less than a year before he was captured and he only served in two units. In his application he seemed certain of the names of the officers, which may be how the correct unit was eventually identified. Another puzzling aspect of the application is that he lists his wife's name as Lucy instead of Laura. This may be an indication that someone else actually filled out the application for him. (Milatary records indicate that he signed the Oath of Allegiance at the end of the Civil War with his mark, but the 1900 census indicated that he could read and write.) From the details provided in the pension application, John Black was disabled in 1905 and unable to perform manual labor. The doctor's assessment was: "Chronic Articular Rheumatism with exacerbations [illegible] inguinal hernia or rupture of long standing and irritability of bladder. Is incapacitated by reason of said disabilities for the performance of manual labor to the extent three fourths of his time. Applicant said disabilities are permanent and increase as he grows older." At the time of the pension application, John was a tenant farmer in Gilt Edge, living with his wife, son John Calvin and two daughters, Annie and Beulah.
John and Laura had 12 children, but only 8 survived:
Thomas Lonzel (10 January 1874 – 23 November 1953)
James "Jim" (abt 1875 – abt 1885)
Maggie Virginia (23 February 1877 – 24 July 1941)
C. J. "Donie" (1879 – aft 1953)
John Calvin (3 December 1880 – 10 August 1967)
William Demit "Will" (13 July 1882 – 7 March 1960)
Cora Lee (19November 1889 – 24 September 1960)
Annie (9 June 1892 – 5 February 1972)
Beulah Bell (30 January 1894 – 4 May 1985)
(That there were 3 additional children is based on the 1900 census in which Laura reported that she had had 12 children of which 8 were then living. We know from other accounts about Jim, who died as a child between five and ten years old, leaving three other children who presumably died before 1900.)
Laura died about 1912 and John died on 3 January 1925 at the home of his daughter, Cora Lee Pickard. Both John and Laura are buried in the Mount Lebanon Cemetery near Covington. At first, neither had a tombstone. John's son, Will, arranged for a military marker to be provided by the War Department in 1936. Since John Black could not afford a tombstone for himself, it is also likely that he could not afford a marker for his wife, as there is no marker there today.